Since 2017 Lorax has been running a work experience programme for young people in the Rugby area.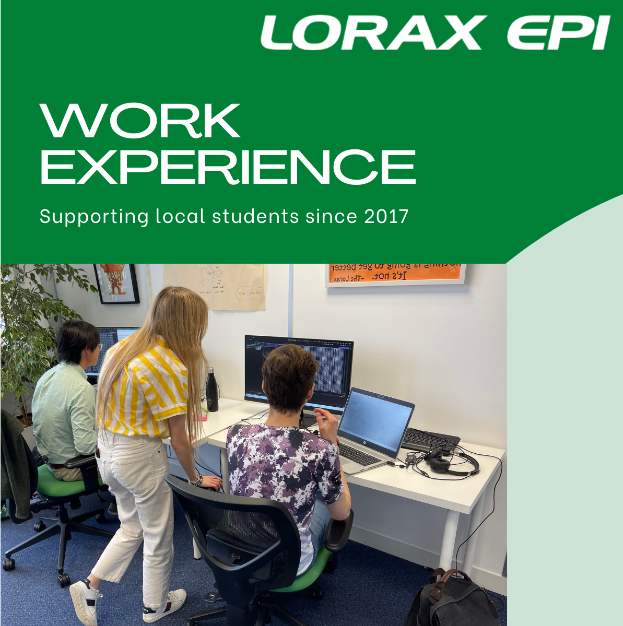 Each year Lorax staff visit local senior schools and meet members of the sixth form studying Computing and related subjects.
Successful candidates join Lorax for a 1–2-week period where they meet team members, participate in day-to-day meetings and work on real projects. This year our placement students worked on improving the Business Intelligence module of our ENVI software and conducted compliance research which directly impacts our service delivery. At the end of their placement, they are encouraged to present back their findings to the team, as we do in our usual day-to-day business.
This summer, we welcomed students from Lawrence Sheriff and Rugby High School to join our Development and Research teams. Throughout the week, they worked passionately on various projects, bringing fresh insights and enthusiasm. At the end of their time with us, they gave an outstanding presentation summarising what they learned about Textiles EPR and Deposit Return Schemes (DRS) worldwide. Their presentation highlighted the skills they developed during their research and will carry with them into the future.
Alongside our work experience programmes, we offer paid opportunities for university students. Sam is currently with us for his years' work placement from Nottingham Trent University, in between his 2nd and 3rd year, his role in the development team enables him to get practical experience before returning for the final year of his undergraduate degree.
''During my internship at Lorax as an Intern Software Developer, I gained invaluable insights into an active development environment and deepened my understanding of the SDLC. I explored various cutting-edge technologies and collaborated effectively within an agile team to contribute to exciting new projects. Beyond work, engaging in social activities with my colleagues further enriched my experience. I am grateful for the support and encouragement from everyone at Lorax, making this internship a truly rewarding and cherished opportunity''.
Shresta is studying Economics and Management at Royal Holloway University and joins us for a summer placement within our Research and Compliance teams. ''My summer internship as a compliance researcher here at Lorax EPI has awarded me with various skills, which will help to guide me on my future career path. This internship has been a great opportunity, and I have loved working with such an amazing team!''
The work experience placements are invaluable to us as a business as it allows us to not only give back to the community but also identify a pipeline of young talent.
We have had much success inviting back previous pupils for paid employment. Currently, we have Josh and Jon with us who have returned from university for another summer's work having been work experience students back in 2019 and 2021.
For our summer work experience this year, we welcomed 9 pupils throughout July who worked on development projects within BI, and emerging legislation projects in research.
If you have a passion for Computing, Account Management or Research, contact us to discuss future work experience opportunities.
Click here to receive regular updates on blog posts, webinars, and regulatory changes directly to your inbox