​Extended Producer Responsibility (EPR) and Packaging Responsibility is something that is rapidly changing, and companies are having to adapt, this has meant changes for us here at Lorax EPI as well. We have recently had a number of new members join the team at once, so we thought it was a suitable time for some introductions.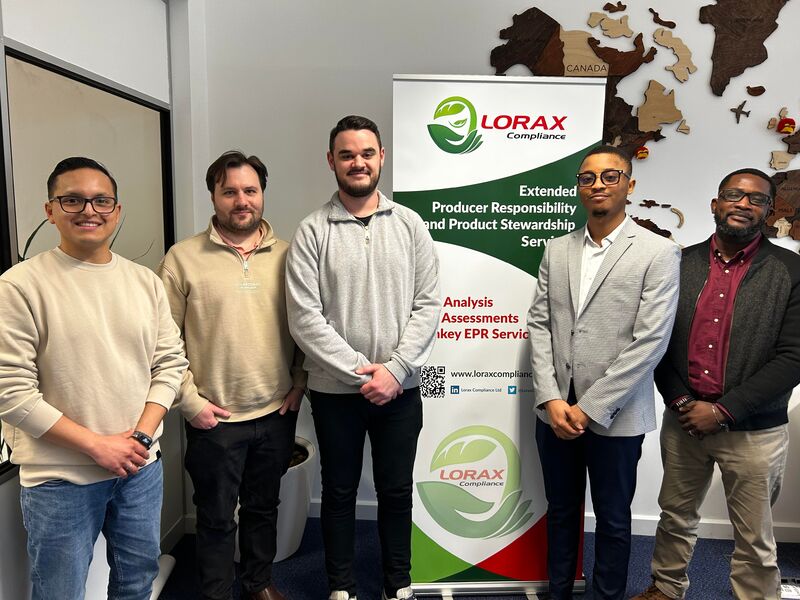 Joshua Martin – Marketing Coordinator
Why you chose to join Lorax: Two of the most important criteria I had when searching for jobs, was that it was a company where I could see myself not only being able to make a difference but also where I could see myself being able to learn and progress. That along with the positive ambitions of the company made it a fantastic choice.
What you hope to achieve: To help get Lorax's name out there, the company has fantastic software tools and services which deserve to be shouted about.
Fun fact: I have been volunteering in Ghana and Morocco, amazing experience, despite the extensive sunburn.
Andres Espin Martinez – Junior Developer
Why you chose to join Lorax: After completing the School of Code Bootcamp I wanted to continue developing my skills and learn innovative technologies and Lorax is a good place to do so.
What you hope to achieve: Become a competent Software developer and help the business pursue its goals.
Fun fact: I love traveling, the outdoors, and motorsports.
Mike Charalambides – Junior Developer
Why you chose to join Lorax: It appeared to be a company with great people and great goals, with a focus on responsibility. Turned out, all true!
What you hope to achieve: My goal is to learn all the technical things, everywhere, over the next few years. How all the systems are built and how they integrate is fascinating.
Fun fact: If newborn babies could read, and everyone could read at the same speed as the current record holder for speed-reading, it would take thirty-five back-to-back lifetimes to read every book in the Library of Congress. So, pick the right books to read, and put them down if they suck! You just do not have the time man.
Olalekan Alominle – Business Analyst
Why you chose to join Lorax: Before applying for the position of Business Analyst at Lorax Compliance, I researched the company in detail and I was not only impressed with the track record of achievement which tells me how ambitious the company is, Lorax Compliance is a market leader in EPR, I was also attracted to the workplace culture and leadership style. We spend a lot of time at work, and I want that time to be put to effective use in a positive work environment where everyone can develop and contribute to the team, and the organisation's goals.
What you hope to achieve: A leader takes people where they want to go. A great leader takes people where they do not necessarily want to go, but ought to be. I hope I can use my experience and skillset to align with Lorax's compliance mission to help companies manage the escalating scope and complexity of worldwide regulatory compliance in EPR and develop future leaders within Lorax along the way. That will be a great achievement for me.
Fun fact: My favourite colour is black, I love playing chess and my next travel destination is Anse Source d-Argent of La Digue, Seychelles Islands.
Godwin Okogun – Product Owner
Why did you choose Lorax: I chose Lorax because it provides me with the everyday challenge that I need to push me beyond what I thought I knew into new spheres that keep me on my feet thinking.
What I hope to achieve: I hope to achieve exponential growth in my field as well as perform optimally in discharging my duties in the shortest possible time.
Fun Fact: I am a lover of good music and a singer outside work, who loves trying new things just to see the worst-case scenarios, who knows, you can never tell what one can achieve trying different things.

Find out more about our team

A vast variety in terms of the job roles for the new members of the team, assisting multiple departments. If you want to learn more about the team here at Lorax and their roles in the company, check out the Meet the Team section in the about us section of our website.

A lot of exciting new developments here at Lorax, it is great to have new members of the team to help deal with the complexity of the changes in EPR legislation and packaging responsibility.
To keep up with the latest developments in our industry visit our Resource Hub which includes our blog, latest news articles, and webinars, or sign up for our monthly newsletter.

Click here to receive regular updates on blog posts, webinars, and regulatory changes directly to your inbox