Lorax EPI's subscription service offerings
Lorax EPI is dedicated to simplifying global sustainability. Brand owners, retailers, manufacturers, producers and other industry professionals rely on our in-house software and international team of consultants to comply with wide-ranging stewardship obligations, keep ahead of legislation and advance their sustainability goals.
One of the main ways our customers stay up-to-date with regulations is through our knowledge subscription services, which offer yearly, bi-annual, quarterly and monthly delivery periods. Below is an overview of our current subscription products.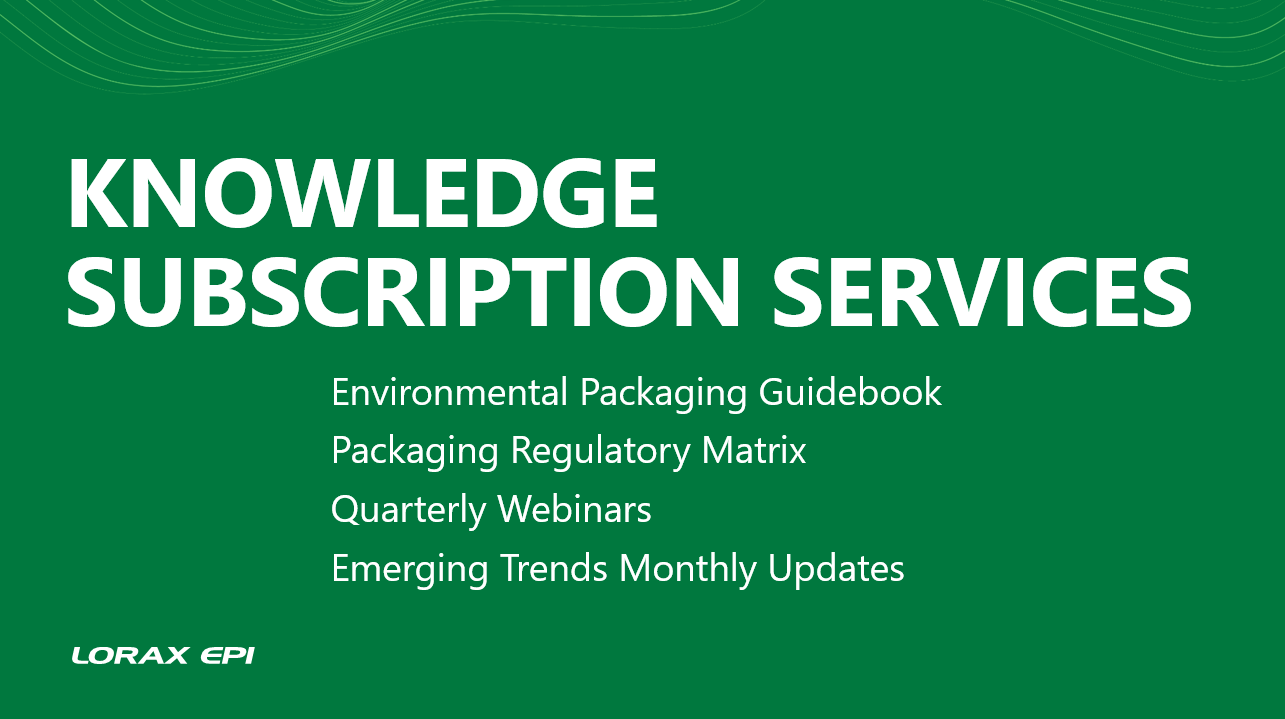 Environmental Packaging Guidebook
Our Guidebook offers extensive information on packaging design regulations, material restrictions, labelling and documentation requirements, empty space laws and minimum recycled content standards in two yearly updates. Our Guidebook also includes recyclability guidance, a table of material options for optimising packaging and a list of additional 'Design for Environment' resources.
The Guidebook is organised by topic and designed to help packaging developers, procurement staff and artwork designers ensure that each aspect of a package conforms to applicable requirements in each jurisdiction. Grouping similar requirements together also facilitates an awareness of global trends in particular aspects of packaging design, encouraging designers to take into account best-practice requirements.

Packaging Regulatory Matrix
Lorax EPI provides ongoing tracking of summarised global environmental packaging regulations in a matrix format, which is also updated twice yearly.
Information in our Matrix gives a high-level overview of regulations, organised by region and jurisdiction. It covers current environmental legislation that affects packaging, including Extended Producer Responsibility requirements, design requirements, material restrictions and environmental labelling. It also indicates whether a jurisdiction has packaging recovery fees or taxes and an example of a major recovery organisation per jurisdiction.


Quarterly Webinars
Every quarter, Lorax EPI holds a one-hour webinar briefing, accompanied by PowerPoint slides, on the latest global developments in environmental packaging that occurred during the previous three-month period. These may include information on developing legislation, regulations, standards and industry groups. Webinars are organised by region and topic, and include the anticipated scope of development, expected timeframe for enactment or implementation, potential challenges for your company and what action, if any, you should take to prepare. Attendees also have the opportunity to ask questions during Webinars, and PowerPoint slides are distributed following each session for internal distribution to your company.


Emerging Trends Monthly Updates
Lorax EPI provides monthly updates, organised by trend and topic, in a factsheet format. The updates summarise emerging developments in the packaging regulatory landscape, either worldwide or focused on your company's markets. This includes summaries of any relevant emerging legislation, industry trends and links to proposed bills as needed.

If you are interested in any of our knowledge subscription services or have questions regarding packaging and product stewardship obligations, please contact Lorax EPI today to discuss how we may be able to assist.

Click here to receive regular updates on blog posts, webinars, and regulatory changes directly to your inbox