Global updates to packaging sorting instructions
​Since the beginning of 2020, there has been a trend around the world to update labelling schemes for packaging sorting instructions. These updated schemes simplify and harmonise countrywide sorting instructions, emphasise the importance of consumer education regarding recycling and highlight the need for a clean recycling stream.​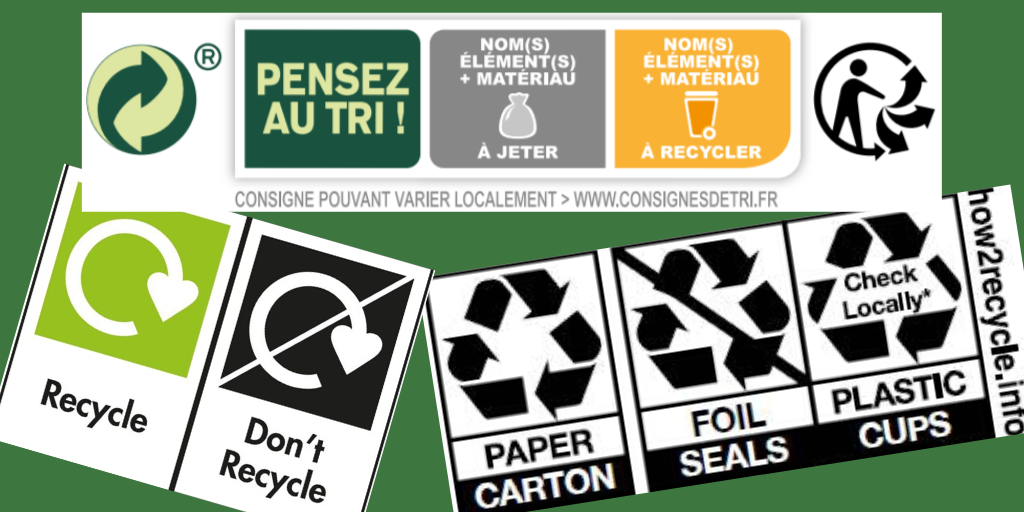 ​Some examples of updated labelling schemes include:

UK On-Pack Recycling Label
The UK On-Pack Recycling Label (OPRL) rules were updated on 29 January 2020. New rules shift the OPRL to a more binary labelling system by categorising most packaging components as either 'recyclable' or 'not recyclable.' Updated recycling instructions are:
Recycle – when 75% or more of UK municipalities collect that type of packaging, which is effectively recycled into new packaging or products (previously 'Widely Recycled' – 75% or more of UK municipalities collected that type of packaging with no regard to recycling rates).

Check Home Collections – when 50-75% of local authorities collect that type of packaging (previously 'Check Local Recycling' – 20-75% collection rates).
Don't Recycle – when fewer than 50% of municipalities collect that type of packaging, and/or it is not effectively recycled into new packaging or products (previously 'Not Yet Recycled' – fewer than 20% collection).
By moving away from a wide-ranging Check Local Recycling category, updated OPRL rules aim to eliminate confusion and create a cleaner recycling stream throughout the UK.

US How2Recycle Label
In the United States, the How2Recycle® program announced downgrades to the recyclability of some plastic packaging formats on 31 January 2020.
Rigid polypropylene containers and cups have been moved from Widely Recycled to Check Locally. According to How2Recycle, most Americans still have access to collection for this material, but it has become uncertain how much of it is effectively recycled.

PET non-bottle rigid containers are also moved from Widely Recycled to Check Locally. The latest How2Recycle data shows that access to recycling for this material has fallen below the acceptable threshold to make a 'recyclable' claim and it must now be recategorised to comply with Federal Trade Commission guidelines.
Packaging containing PFAS are now labeled Not Yet Recycled. How2Recycle reports that this is in order to 'avoid the intentional contribution of hazardous forever chemicals to the recycled material stream.'
These updates keep the How2Recycle® scheme in line with US Federal Trade Commission Green Guides and aim to minimise contamination to the recycling stream.

France Triman Logo and ​Complete Sorting Instructions
Citeo, France's household packaging extended producer responsibility regime, is offering an 8% reduction in fees in 2020 for packaging using complete sorting instructions. Complete instructions include:

All packaging components listed or depicted;

Materials for each component; and

Means of disposal for each component – 'To Discard' or 'To Recycle'

​This encourages producers to play a role in consumer education, ultimately leading to a cleaner recycling stream across France.

With the passage of France's law on the fight against waste and the circular economy on 11 February 2020, it will become compulsory to show a Triman logo along with sorting instructions on household products, their packaging or documents supplied with the products beginning in 2021. By mandating consumers be informed about environmental qualities of waste-generating products at the time of disposal, France's new labelling regulation highlights the importance of proper disposal in order to maximise the value of recyclables.

To learn more about global environmental label​ling regulations, contact Lorax EPI today. ​​
Click here to receive regular updates on blog posts, webinars, and regulatory changes directly to your inbox